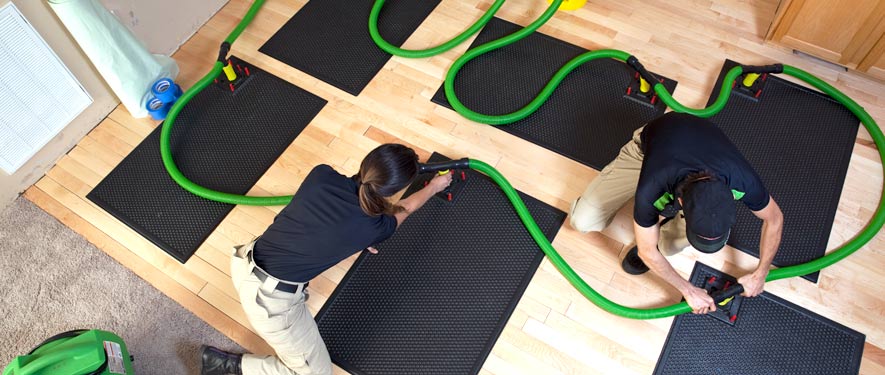 Step 4: Drying and Dehumidification
Our Water Damage Restoration Process
Step 4: Drying and Dehumidification/Our Water Damage Restoration Process
Our air movers are specially designed equipment which plays a huge part in the drying and restoration process. An air mover works by circulating the air in rooms where drying is needed. Designed to blow air at a high speed making water evaporate more quickly from drywall, carpet, and hard floors surfaces. They are also used for drying large pieces of furniture and cabinetry that have been affected by water loss.
Taking moisture content and atmospheric readings are ways our SERVPRO® of Hurst-Euless-Bedford technicians know at what speed the area is drying, adjustments to the equipment will be made daily to advance in the drying of your home and personal belongings.
Dehumidification is also essential in the drying process of your home after a water loss. It can remove the moisture from the affected areas minimizing the damage. We lower the humidity in the affected areas which makes the air dry, which pulls the moisture out of the affected materials.
Drying / Dehumidification
Our Professionals will use room measurements, temperature, and relative humidity to determine the optimal number of air movers and dehumidifiers to dry your home or business. We'll carefully monitor the progress using moisture meters until the materials return to acceptable drying goals.
Use Dehumidification Equipment
Use Monitoring Equipment to Track Progress
Monitor Floor and Walls
We check the moisture levels to monitor the drying process. 
Monitor Floors
Monitor Walls
Drying Equipment
Industrial-grade dehumidifiers help prevent secondary water damage like swelling and warping of floors, walls, and furniture.
High-speed air movers create airflow across walls, carpets, pads, and furniture, which accelerates the evaporation of moisture.