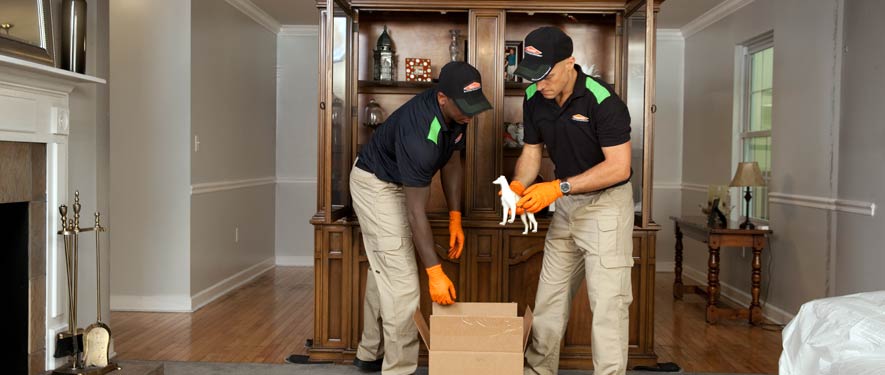 Step 5: Cleaning and Sanitizing
Damages that pose risks to your health are better left to the professionals at SERVPRO® of Hurst-Euless-Bedford. Cleaning and sanitation after a water loss can be both unique and challenging. Our technicians are trained and certified to clean your home and restorable contents to its preloss condition. Sanitizing of your home and contents depends on the case and type of damage in which antibacterial and antimicrobial agents are used when the cleaning process is complete. We use all SERVPRO cleaning agents which are designed and tested by our chemists at the SERVPRO Headquarters.
Fire Damage
Fires leave a penetrating odor. Wiping the surface alone will not fix the problem or remove the smell without proper process. After a fire, salvageable clothing, linens, and upholstered furniture should be appropriately cleaned to expel the scent reminiscent of smoke. Soot and ash left behind after a fire must be removed from the property. Soot will settle into the carpet, air ducts of the central air system and cause the odor to remain, that is why it is important to have our team of certified technicians to remediate your fire damage.
Water Damage
Water can cause microbial growth and the cleanest water is not excluded. The cleanest water can leave a sour odor on clothing, linens and even furniture. SERVPRO® of Hurst-Euless-Bedford has a variety of cleaning and sanitizing products to help disperse any odor in your home and antimicrobial solutions can help prevent further mold growth.
Contents Restoration
SERVPRO of Hurst-Euless-Bedford specializes in restoring contents damaged by fire, water, or mold. Our expertise and "restore" versus "replace" mentality can help you save money while preserving precious keepsakes that can't be replaced. Learn more about Contents Restoration.
 Dry Cleaning
 Wet Cleaning
 Spray and Wipe
 Foam Cleaning
 Abrasive Cleaning
 Immersion Cleaning
Odor Removal and Deodorization
We are trained to identify and eliminate offensive odors. Our technical expertise and industrial grade air scrubbers and fogging equipment go well beyond simply masking odors and other shortcuts that don't work when your odor problem is serious or persistent.
 Odor Removal and Deodorization
 Air Scrubbers and Fogging Equipment
Sanitizing Treatments
Depending on the scenario, we may use antimicrobial, antibacterial, or disinfectant treatments to clean your property.
 Antimicrobial and Antibacterial Treatments
 Sanitizing and Disinfectant Treatments
Disposal
We will remove and dispose of damaged materials with guidance from you and your insurance adjuster.
 Properly Dispose of Refuse